An joyous three night journey to transport you to a world of magic, this package includes every festive activity you could hope for and more.
Meals included breakfast & dinner
Our day begins with an early morning flight from Dublin airport to Kittila airport in Lapland. During the flight you will be served a light breakfast and with the permission of our friendly airline crew there will be plenty of fun and games on board.
Kittila airport is located north of the Arctic Circle and the flying time is just over 3hours. On arrival at Kittila airport you will be met by Santa's helpful guides who will help you get fitted out in your special thermal clothing that is essential for your holiday in Lapland. You will receive complimentary thermal suits, boots, socks, gloves and a warm hat to keep you nice and toasty at all times. Once you are all fitted out in your clothing, you will continue on your way by coach to your chosen hotel or apartment. Make sure you keep a watchful lookout for Santa's reindeers along the way and Santa's secret hideaway. The transfer time is short, in approximately 45 minutes you will arrive at your chosen hotel or apartment.
Why not explore your snowy surroundings, build a snowman, find a toboggan or simply play in the snow or enjoy the indoor pool at your hotel as tomorrow you will have a busy day. Tonight you can relax and enjoy a nice buffet dinner at your hotel.
Meals included breakfast, lunch & dinner
After breakfast you will be met by Santa's helpers. Today will be the highlight of your trip, you will search for Santa and begin your wintry adventure where you will get to enjoy the following activities during this magical day.
You will head out deep into the arctic wilderness where you will get to enjoy a short Reindeer ride, a short but speedy Husky ride, a snowmobile safari and have fun tobogganing. During the day you will get to visit one of Santa's enchanting workshops hidden deep in the forest. Here you will learn the importance of being an elf at Elf School, you will take part in some festive decorating, take a guided tour of an elf's house and maybe even catch a glimpse of the elves in their bedrooms and listen to their funny stories. You will Experience Santa's Toy Making Facilities. You will see the elves working busily in the Post Office sorting out all the letters from all the boys and girls and you will have the opportunity to have a private family meeting with Santa Claus himself.
Outdoors you might be really lucky and see some of Santa's reindeers taking a well-earned rest, could it be Dancer, Dasher, Prancer, Vixen, Blixen, Comet, Cupid, Donner or Rudolf.
During the day we will take a break from the activities and recharge our batteries by enjoying a much needed simple but nice lunch.
Late in the afternoon we will return back to our hotels where you can enjoy the facilities of your hotel or explore the surrounding areas. Buffet dinner will be served at your hotel.
Meals included breakfast, lunch & gala dinner
The morning is free for you to relax in your hotel, explore your surrounding area, simply play in the snow or why not prebook an optional excursion for your family.
After Lunch we will visit the Snow Village, a magical world of ice and snow. Each year, around
20 million kilos of snow and 350,000 kilos of crystal clear natural ice are used to build the spectacular Snow Village which changes in shape, size and design to amaze visitors year after year. The Snow Village consists of a Snow Hotel with snow rooms and suites, Ice Restaurant, Ice Bar, Ice Chapel, a slide and a vast network of striking corridors full of spectacular ice artwork to explore. After our visit to the snow village you will return to your hotel for a buffet lunch.
This evening, you will enjoy a festive dinner including party games and a disco and you never know Santa might make a special appearance tonight.
For departures on the 25th & 28th November for 3 nights, please note the Snow Village will be replaced with a visit to Levi.
Levi village is full of Christmas magic to explore on your trip to Lapland.
Alas,the day of departure is upon us. We will check out of our hotels and take a short transfer back to Kittilia airport for our return flight to Dublin.
A light lunch will be served on board the flight home.
Return flights with in-flight catering
Transfers
Thermal snow suits & boots for duration of trip
3 nights full-board accommodation
Visit Santas Hideaway
Elf School & Festive Decorating
Experience Santa's Toy Making Facilities
Private meeting with Santa
Visit the Snow Village
Reindeer ride
Husky ride
Snowmobile Ride
Have fun tobogganing.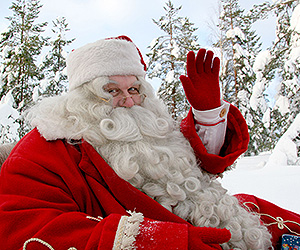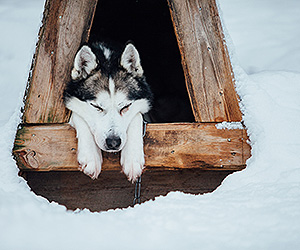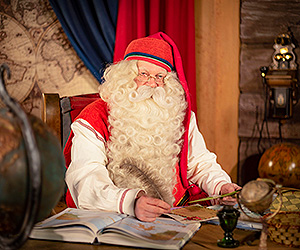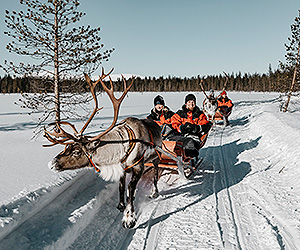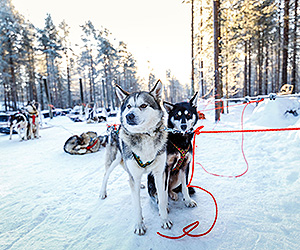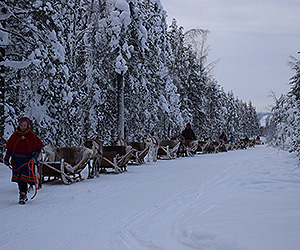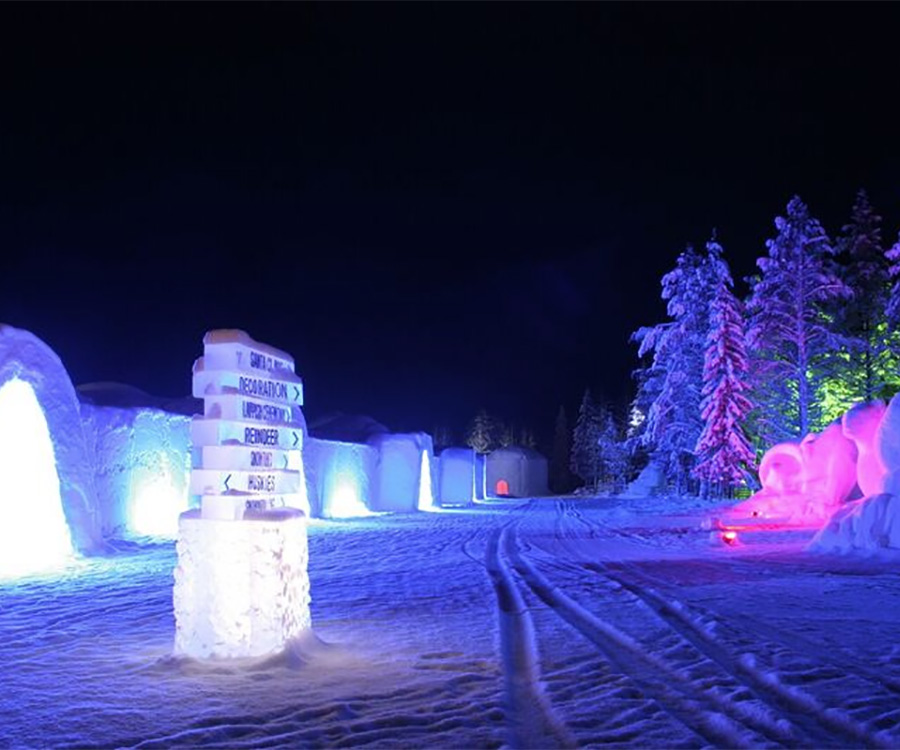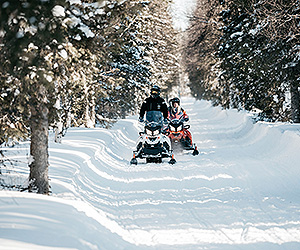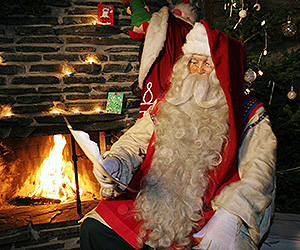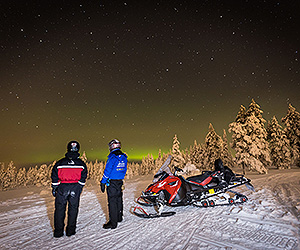 Flight Details
Departure Dates 2023
Depart Dublin 10:00 – Arrive Kittila 15.40

Depart Kittila 16:20 – Arrive Dublin 18:00

25th Nov
28th Nov
1st Dec
4th Dec
7th Dec
10th Dec
13th Dec
16th Dec
19th Dec
Note
Children must be aged between 2 – 12 years of age
Infants under 2 years of age on date of return travel free but will incur a tax and administration fee of €50. Please see advice on travelling to Lapland with infants..
Travel insurance is not included.
Flight times are subject to change.
Prices are subject to change.
Accommodation Options – Saaga Hotel
The Saaga hotel is set in one of the most picturesque areas in Lapland, surrounded by mountain scenery, frozen lakes and snow-covered forests it is difficult not to fall in love with this resort.
With an indoor swimming pool and excellent spa facilities, the whole family can enjoy some free time too.
The Ski Lift  (Gondola)  located beside the hotel can give you the chance to go high into the hills of Yllas and take in the stunning views that surround the Saaga hotel.
After a day of snow fun with family & friends  you can relax in the cosy lobby by the open fire with a hot chocolate or snack from the hotels bar.
You are also in an ideal location to witness the magical northern lights if they make an appearance.
Location
Located in the heart of Yllasjarvi ski centre with direct access to ski slopes, tobogganing and snowboarding trails. 4km from the centre of Yllas, the local bus stops close by. Approx. 30 mins from Kittila airport
Facilities
Spa facilities – Indoor swimming Pool and children's pool – Cave Jacuzzi – Steam Room – Gym – Fireplace Bar
Rooms
Rooms all feature modern amenities while maintaining a traditional Nordic-style wood finish and offer you beautiful views of the wintery landscape and wonderful sunsets from the distant horizon.
All rooms feature Wi-Fi, TV, Bathroom, hairdryer, dryer closet and some have a balcony or terrace.
Standard rooms sleep up to 4 people with twin beds and a double sofa bed for 3rd person.
Superior rooms sleep up to 4 people with a double sofa bed and twin beds, these are located on the top floor and have a balcony.
Studio apartments sleep up to 3 adults or 2 adults + 2 children with Twin beds and 1 bed in an alcove, the 4th bed is a sofa bed These also include a sauna and full kitchen facilities.
One bedroom superior apartments sleep up to 4 with twin beds in the bedroom and double sofa in the lounge, these also include a sauna and full kitchen facilities.
Two Bedroom Superior apartments sleep up to 6 with 2 separate bedrooms offering twin beds and a double sofa bed in the lounge, these also include a sauna and full kitchen facilities.
Our apartments are located next door to the main building and have a fixed indoor connection to the hotel.